Plano Teeth Whitening, Dental Implants, Veneers
Trophy Dental of Plano offers a full array of dental services to help you maintain healthy teeth. You can read more on this page about specific services.
All Porcelain Cosmetic Crowns & Bridges
Bonding
Clear Correct
Cosmetic Dentures
Cosmetic Fillings/White Fillings
Conscious Sedation Dentistry
Extractions
Gum Lift and Recontouring
Obstructive Sleep Apnea (OSA) Appliances
Periodontal Therapy Treatment
Root Canal Therapy
Sealants
Soft Tissue Laser Treatment
TMJ Therapy Treatment
Veneers
ViziLite Plus - Oral Cancer Screening
Zoom! Power Whitening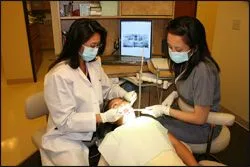 Initial Oral Examination
Your initial oral examination includes a visual examination, oral cancer screening, charting, periodontal probing, diagnosis and treatment recommendations. We will also take x-rays, which includes the panoramic x-ray for proper diagnosis of the anterior (front) and posterior (back) teeth with all bone relations, as well as the bite-wing x-ray series for proper diagnosis of proximal decay of posterior teeth.

Teeth Whitening
Our state-of-the-art, In-Office Zoom Power Whitening system will make your teeth whiter in less than 1.5 hours. Another option is our home bleaching system that you take with you for results in 1-2 weeks. You can also consider a combination program of both systems for optimal, long-term results.

Crowns and Veneers
You can have a new smile with all-porcelain crowns (empressed material) on the anterior teeth. For the posterior, we offer all porcelain crowns.

Resin Fillings
White, tooth-colored fillings that are light-cured to match your teeth.

Root Canals
We perform root canals on anterior, premolar and molar teeth.

Periodontal Treatment
You should have a standard cleaning at least twice a year. Standard cleaning treatments include an Adult Prophylaxis and Topical Fluoride Varnish. If it has been over a year since your last cleaning, a deeper Periodontal Scaling and Root Planing treatment may be needed.
Mouth Guards
Whether you are an athlete or casual sports participant, you should wear a mouth guard to protect your teeth. If you clench and/or grind your teeth either while you sleep or at any time, an occlusal bite guard will help reduce symptoms of TMJ Dysfunction. We custom make mouth guards in both soft and hard materials, depending on your condition.

Removable Dental Prosthesis
For missing teeth, we can make dentures or removable partials for you. We offer traditional appliances with metal sub-structure or cosmetic appliances, where there are no metal at all.
What Sets Us Apart
We specialize in cosmetic restorative treatment (Extreme Smile Makeovers)

Sedative (Sleep) dentistry for extra comfort

Exceptional and Personalized Care

Convenient Appointment Times